I require my African singing and dance students to be present in every moment, and to dance fully—with body, mind, and soul. We all have the potential; we have what it takes to be amazing. But very often we hold back, because of insecurities, fear, self-judgment, or fear of being judged. And so, for the most part of the semester, the energy is not completely ripe. But the amazing thing is, whenever we have a midterm or an exam or a special guest, for some reason people come out with ridiculous energy or an amazing display of skill and talent. The question is where do we keep this energy in our daily practice?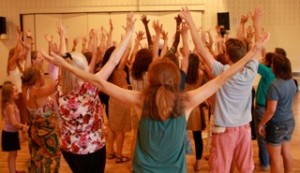 The interesting thing is that students believe that because they give it all on this particular special day, that somehow that absolves them from all the laziness and half-ass work they have done all semester. Everybody has the seed, we just have to nurture the seed daily with our passion and find the environment that helps us maximize our potential. If we do that every day, that is love for ourselves, we don't have to wait for a special day to do something. Every day is your event, don't just do it on your birthday or for an exam. Life is short.
I once received a story about a couple. For most of the year, one got abused on a regular basis, but for some reason, when it came time for their birthday, they got the biggest bouquet and the biggest treats. The question is, is there love in this relationship?
So when I teach, I say, I don't want you to give me flowers on my birthday, I want you to give me love me every day.