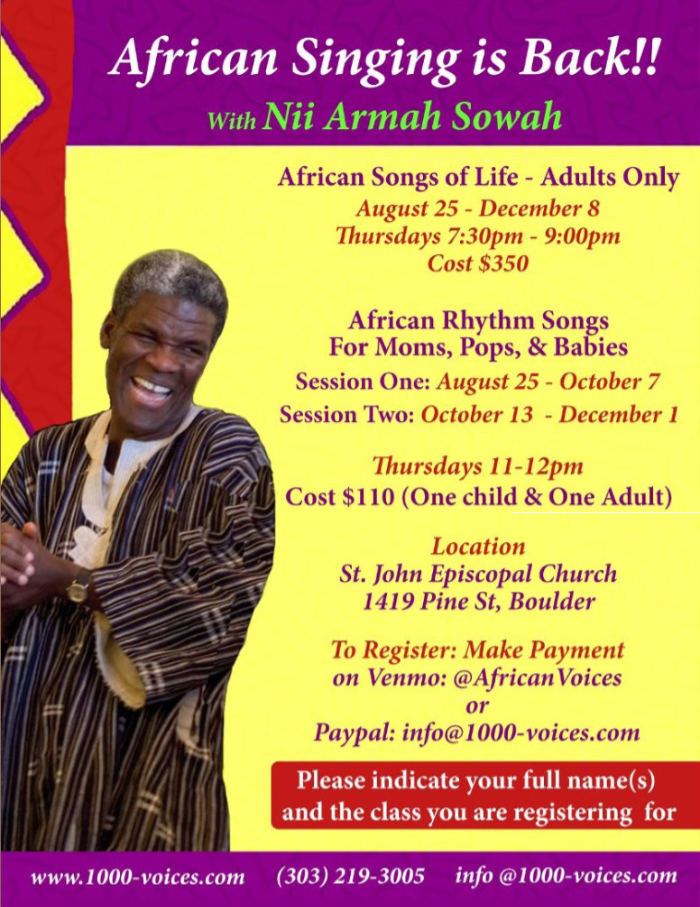 African Dance and African Singing
1000 Voices Project was founded on the conviction that whenever we raise our voices collectively, change is inevitable. The 1000 Voices Project offers people the opportunity to work together to stimulate self-awareness while cultivating basic human qualities such as compassion, understanding and respect.
The 1000 Voices Project offers a variety of programs in different settings bringing people together to build peaceful communities. African songs, rhythm games, dance, and storytelling are used to facilitate personal growth, community building and cross-cultural understanding. We hope that one day it will be common practice for people to gather in the thousands to work together in harmony.
There would be days that I would come to class either exhausted, sick or frustrated and by the end of class with him, I would feel rejuvenated both physically and emotionally. I feel that the way I interact with other people has been forever changed by my experience with Nii Armah. I have learned that putting a wall between yourself and others, no matter how hard of a day you are having, can only make you feel worse. He taught me that when you reach out to others, you will always be amazed at how many people will be there for you. It is these concepts of living that truly changes someone's life…
- J.S.