Kindergarten Through 12th Grade Education Presentations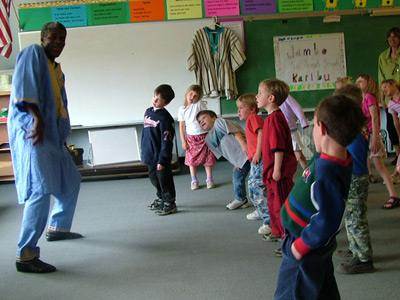 In African societies, the traditional performing arts are part of a child's upbringing. The arts are especially useful as tools for building relationships. It is these relationships that so effectively support the integrated development of the child.
In educational settings the focus is on rhythm games, movement games, dance, song, chants and storytelling to teach children about African culture, with a goal of building bridges for cross-cultural understanding. This is a "hands on" participatory experience rather than a performance.

BENEFITS:
Provides fundamentals of community building emphasizing the individual's responsibilities and privileges.
Highlights the effects our actions have on our surroundings (Micro and Macro).
Provide insight into understanding multiculturalism/diversity, which is a key to being effective participants in the global village.
Learn through play – a healthy approach to building self-esteem.
To schedule a classroom presentation click here.